IVEG symposium: take-home messages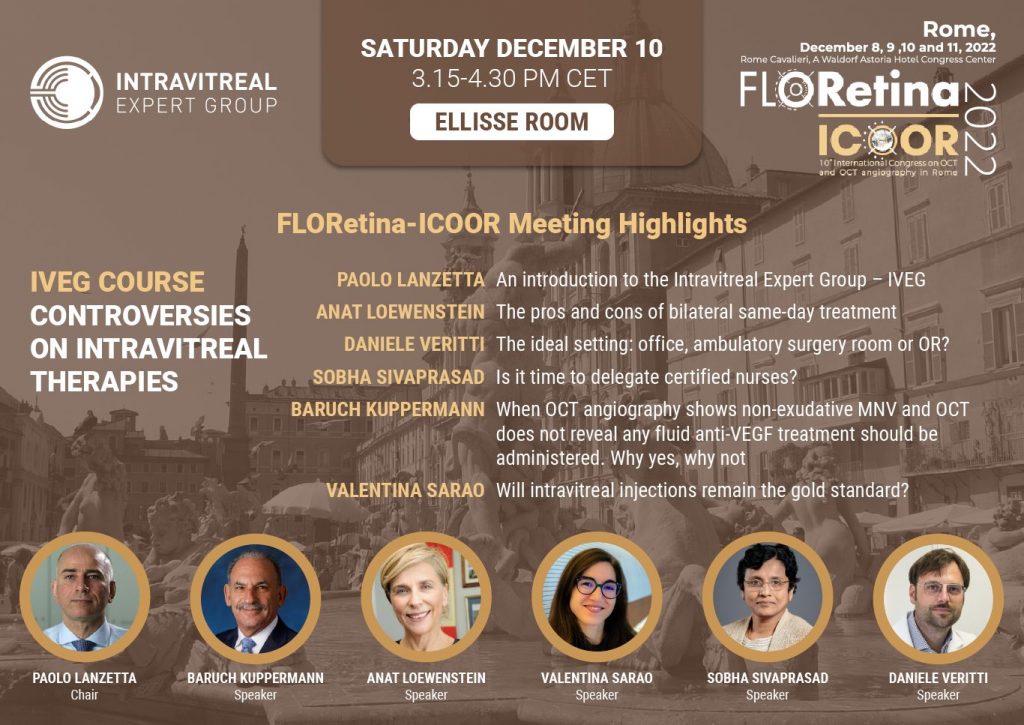 ANAT LOEWENSTEIN – "The pros and cons of bilateral, same-day treatment"
Administration of bilateral same-day intravitreal injections in patients with nAMD is still uncommon. According to a multicenter survey (Giocanti-Aurégan A et al. BMC Ophthalmol. 2016. doi: 10.1186/s12886-016-0317-y), it accounts for only 13.8% of the cases, while, 19% of the patients receive the second injection within a month and most patients (67.2%) receive it within more than one month.
Bilateral treatment significantly decreases the burden for both the patient and the clinics, but safety concerns still limit the widespread use of this practice.
Large studies, however, have demonstrated that the risk of endophthalmitis with bilateral same-day injections is very low, and not higher than the risk of endophthalmitis related to unilateral injections.
In a total of 101,932 bilateral same-day intravitreal injections performed in 5,890 patients at Wills Eye Hospital over 5 years, Borkar and colleagues (Borkar D. et al. Am J Ophthalmol. 2018. doi: 10.1016/j.ajo.2018.06.022) found an overall 0.027% rate of endophthalmitis, comparable to findings of studies looking at unilateral injections, where infection rates ranged between 0.008% and 0.092%. No case of bilateral endophthalmitis occurred. Of the 28 patients who developed unilateral endophthalmitis, 57% resumed bilateral same – day injections one year later.
Bilateral same-day treatment is feasible, time saving and economically favorable. Importantly, the second injection needs to be treated as a separate procedure, and a separate batch and syringe should be used. – Anat Loewenstein, MD
DANIELE VERITTI – "The ideal setting: office, ambulatory surgery room or OR?"
Italy is the only country where intravitreal injections are not allowed outside the hospital. There are other countries, like Germany and Denmark, where they are preferentially performed in a hospital setting due to reimbursement policies, but there are no government-imposed restrictions on the possibility to perform them in an adequate office setting.
Studies consistently show low rates of ocular and systemic complications, and no correlation has been found between the rate of complications, including endophthalmitis, and the setting where the injections are performed.
I strongly believe that in order to fully exploit the potential of intravitreal anti VGF therapies, we absolutely need to update obsolete and somewhat absurd regulations and we need a better organization of the healthcare system –  Daniele Veritti, MD
Highlights from the discussion.
"In the United States, if you want to take a patient to the operating room for an injection, you would have to explain that this was either somebody with dementia or inability. You'd have to go through hoops to be allowed to do it. At the end of a case of surgery that I was doing anyway, I'm allowed to give an injection, but as a procedure by itself, to take somebody to the operating theatre or an ambulatory surgery center for an intravitreal injection would basically not be allowed. The only place that the insurance company would authorize it is in the office." – Baruch Kuppermann, MD


SOBHA SIVAPRASAD – "Is it time to delegate certified nurses?"
The main cause of suboptimal outcomes with intravitreal injection therapy is delayed initiation of treatment. And treatment is often delayed because healthcare systems are overloaded. While the demand for intravitreal injections is exponentially rising, we do not have enough ophthalmologists to deliver them, at least in the UK.
In 2013, the Royal College of Ophthalmologists produced a statement supporting the training of nurses and optometrists to administer intravitreal medications, and in this way, we have managed to provide timely delivery of treatment.
Audits conducted in many of our hospitals have shown that there are no differences in endophthalmitis rates. And patient-experience questionnaires reveal no difference in satisfaction, no complaints and a favorable pain experience. There are also randomized control trials showing that intravitreal injections administered by nurses are non-inferior in terms of effectiveness. So, clearly, nurses do just as well.
We have structured training protocols in place, and we also have several intravitreal assistive devices that nurses can use to look at the exact point at which they must inject.
I should stress that in any nurse-led injection clinics, there is always a consultant ophthalmologist. A doctor should be there to deal with any complication. – Sobha Sivaprasad, MD
Highlights from the discussion.
"The Israeli Medical Association expressed against us training nurses or technicians in what is considered to be a surgical procedure. And also, the question comes up of whether nurses or technicians would be able, and entitled, to deal with complications if they arise." – Anat Loewenstein, MD
"In the US each state has its own medical board that makes its own unique decisions, and within each state we have an ongoing battle with optometrists who try to do more and more procedures. However, we have enough doctors to do all the injections, and don't have the need to shift intravitreal injections to nurses, physician assistants or optometrists." – Baruch Kuppermann, MD
BARUCH KUPPERMANN – "When OCTA shown non-exudative MNV and OCT does not reveal any fluid, should anti-VEGF treatment be administered?"
This question was addressed by the Intravitreal Aflibercept Injection versus Sham as Prophylaxis against Conversion to Neovascular AMD (PRO-CON) study (Heier JS et al. JAMA Ophthalmol. 2021. doi: 10.1001/jamaophthalmol.2021.0221). Patients with neovascular AMD in the fellow eye and non-exudative MNV in the study eye were randomized to either intravitreal aflibercept every 3 months or sham injection. The primary outcome was the proportion of patients who converted to exudative MNV at 24 months. The conversion rate was comparable in the two groups, namely 9.5% in the treated group and 10.9% in the sham group. Overall, few patients developed exudative MNV, and anti-VEGF therapy did not prove to be effective as a prophylactic agent against conversion.
In conclusion, there is no reason to treat nonexudative macular neovascularization, but patients should be observed more carefully. Typically, I see them every 3 months, and they might be good candidates for home-OCT monitoring.
An unresolved question is whether nonexudative MNV may have a protective role in slowing the progression of geographic atrophy, but in the PRO-CON study the development or progression of geographic atrophy was not affected by quarterly aflibercept. – Baruch Kuppermann
Highlights from the discussion
"There is another way to detect very early CNV, and that is preferential hyperacuity perimetry (PHP), a functional test. One of the problems with the PHP were the false positives. Now we have the results of the "Analysis of Long-term visual Outcomes of ForeseeHome Remote Telemonitoring (ALOFT)" trial (Ho AC et al. Ophthalmol Retina. 2022. doi: 10.1016/j.oret.2022.10.009) that looked at patients that used the PHP for 10 years in the US. And among patients that were false positives, and did not have a CNV with regular OCT, there was a very high percentage that did develop CNV soon after. So this test might have the ability in the future to tell us who are the patients that are going to develop CNV later on." – Anat Loewenstein, MD


VALENTINA SARAO – "Will intravitreal injections remain the gold standard?"
Intravitreal injections are currently the gold standard for the treatment of retinal conditions, but the short intravitreal half-life of anti-VEGF drugs necessarily creates the demand for frequent retreatments. As a result, the patient's burden is high and compliance is often suboptimal.
Trials are currently exploring alternative pathways to provide therapies with extended effects. Several sustained-release drug delivery systems are under investigation. The Susvimo refillable eye implant was already available on the market, but Genentech voluntarily recalled it after some cases of displacement of the septum were reported. Gene therapies are also explored in studies, and have the potential to rewrite the future of medicine. Non-viral gene delivery platforms look particularly promising, due to the lower immunogenicity as compared with viral vectors, the limited site constraints and the larger scale production capacity.
Intravitreal injections remain for the time being the preferred method, due to their positive safety and efficacy profile. However, the horizon looks bright, and in future years new approaches may become mainstream. – Valentina Sarao